At Ramboo we pride ourselves on our wide selection of outdoor and indoor furniture products all of which are proudly made in Kenya.
 An extensive range of wooden, hand-woven and solid cane products are manufactured at our factory in Nairobi.
All products are available in a range of colours and all upholstery and cushions are tailor-made to customer selections.
 We manufacture woven and cane furniture which is made of UV-resistant and weatherproof materials. In addition to this we also exclusively work with Duom palm to create a unique range of wooden furniture
This range comprises of styish and functional designs in perfect harmony ranging from our classic designs which have stood the test of time in the market to our latest innovations. All items are fully customizable in a range of colours.
A natural look and feel combined with unmatched comfort, durability and low maintenance has made our woven furniture one of the most popular choices. Stylish, quality outdoor furniture, our woven collection features graceful silhouettes and durable materials for furniture that stays strong and beautiful all year round.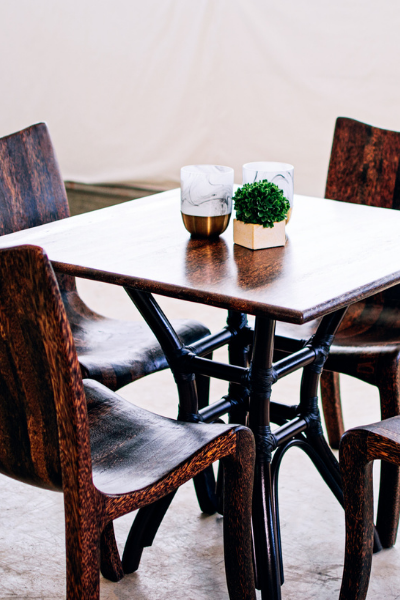 Discover high quality hand crafted wooden furniture that looks beautiful inside or for any outdoor space. Individually made pieces made exclusively from Duom Palm, artistically crafted by our local team.
Our tables are available in classically round, square, oval or traditional rectangular shape. Take your pick as we can provide tables in any size required. We have two options for the tops either a glass top (clear, tinted or frosted) or resin finish in various colours and finishes.
Sofa's and Lounge sets
Numerous combinations make our various lounge options perfect for either your garden, patio or sitting room. Naturally, all covers are easily removable and easily washable making the ideal addition to your home.
Umbrellas
Match our umbrellas with your furniture selection. Our umbrellas are easy to handle and have a quality that many hotels and lodges in Kenya and abroad trust, especially in challenging locations with strong winds. These can also be integrated into our dining tables, perfect for a shaded dining table for outside.
Daydream/orbit beds/sunbeds (from the woven range)
Perfect for those times when all you need in your life is to laze and chill, our orbit beds, daydream beds and sunbeds offer the utmost in relaxation. Our sumptuous pillows and cushions not only come in a variety of sizes and are weather durable but are included in the price (on some models additional scatter cushions may have an extra charge).